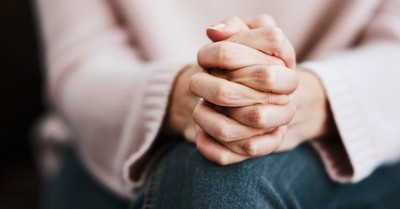 By Jennifer Waddle, Crosswalk.com
When God said, "It is not good that man should be alone; I will make him a helper comparable to him," it was for the beautiful purpose of blessing Adam with a life companion. Together, they would build a home, a family, and a legacy.
God's perfect design for marriage is to unite husbands and wives - first to Himself - then to each other. "And the two shall become one flesh." In this context, a wife's prayers are powerful intercessions for her husband. She knows him intimately, what concerns him, what keeps him awake at night, what motivates him and brings him joy.
So, no matter how busy we are, praying for our husbands is vital to our role as wives. They need it, they deserve it, and they will greatly benefit from it. As 1 John 5:15 says, "And if we know that he hears us—whatever we ask—we know that we have what we asked of him."
Here are five specific prayers to pray for your husband:
1. For Their Heart
Gracious God, please touch my husband's heart with Your love today. Give him the assurance that You love him with everlasting love and want what is best for him. When he is frustrated, please give him a sense of peace and calm to handle the situation with integrity. When he is down, be the lifter of his head and draw his eyes towards you. Thank You, Lord, for safeguarding his heart, keeping him close, and reminding him of Your great love. Help me to be understanding, kind, and loving towards him so that he always has a soft place to land. In Jesus' holy name, amen.
2. For Their Mind
Lord God, please fill my husband's mind with good and pleasant things today. Whenever negative thoughts come in, please replace them with things that are true, noble, right, pure, lovely, admirable, excellent, and worthy of praise. I ask for a deep sense of peace to fill his mind so that he knows everything will be alright. Give him wisdom in all his decisions and interactions with others and grant him understanding when confusion arises. Most of all, help him set his mind on You, the Author and Perfecter of his faith. In the name of Jesus, amen.
3. For Their Soul
Heavenly Father, I pray for my husband's soul, the very depths of who he is. Please settle all feelings of unworthiness and shame. Remind him of the redemption he has in Your Son, Jesus. Fill his soul with hope and joy that surpasses all understanding. I ask for a mighty work of Your grace to inhabit the center of his being so that he will not walk in the heaviness of his soul but in the lightness of Your presence. Please assure him that Your yoke is easy, and Your burden is light; he can do all things through Christ who strengthens him. Thank You for my husband's precious soul - for who You created him to be. Help me be supportive of him in good times and bad. In Jesus' mighty name, amen.
4. For Their Strength
Lord, thank You for being my husband's strength today. In all that he does, please continue to lead him by Your Spirit and strengthen his frame. When he feels tired, be the refreshment he needs. When he is sick, be his gentle Healer. And when he is worn out, please fill him with life and vitality to face another day in the joy of knowing You. Lord, show me ways I can help meet my husband's needs and fill in some gaps when he is overwhelmed. Help me be aware of his struggles so I can be the companion You created me to be. Thank You for strengthening our marriage and keeping us in step with Your Spirit. In Jesus' name, amen.
5. For Their Purpose
Lord God, as life becomes mundane, please remind my husband of Your divine purpose. Speak new life into his heart, mind, and soul so that he won't allow complacency to take root. As a couple, please clarify what you want us to do for Your glory and the good of others. Awaken us to the bigger purpose of drawing others to Your Son. Help us work together in every way, making our home a haven of peace and our family a unified force for good. We want to live within Your purpose for our lives. Thank You for leading my husband in the way he should go so that he can lead our family on the narrow path of righteousness, for Jesus' sake. It is in His precious name I pray, amen.
Check out these articles for more ways to pray for your husband:
20 Essential Prayers for Your Husband
How to Pray for Your Husband instead of Trying to Change Him
Photo credit: ©Getty Images/PeopleImages
Related podcast:
The views and opinions expressed in this podcast are those of the speakers and do not necessarily reflect the views or positions of Salem Web Network and Salem Media Group.
Related video:
Video credit: ©RhondaStoppe/SWN