All Things Possible presents: Kingdom Men's Gathering 2022
11:59 - 11:59 PM on Saturday, May 21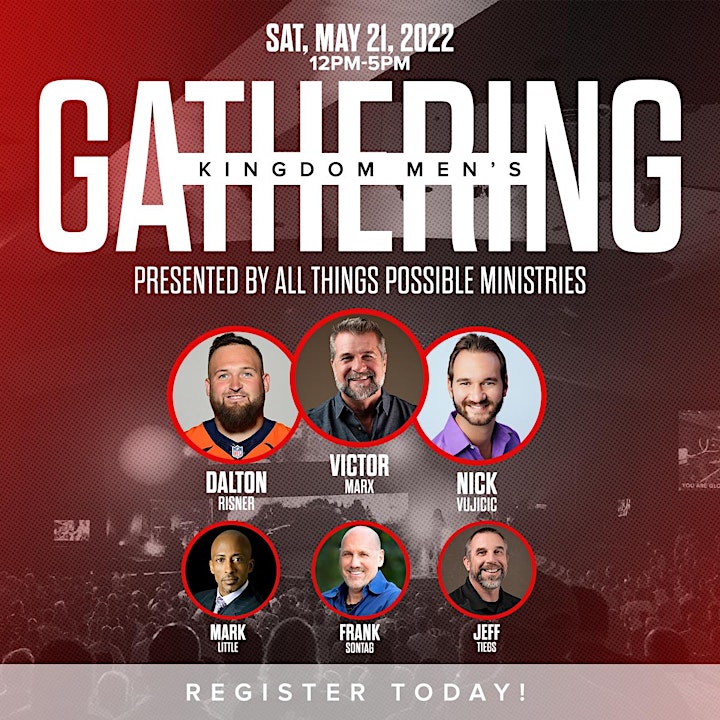 Kingdom Men's Gathering with Victor Marx, Nick Vujicic and More!
About this event
JOIN FRIENDS, HUSBANDS AND FATHERS FROM ALL OVER THE COUNTRY FOR:
KINGDOM MEN'S GATHERING COLORADO SPRINGS
PRESENTED BY ALL THINGS POSSIBLE
Join friends from all over the country for Kingdom Men's Gathering 2022 presented by All Things Possible.
Special guests and speakers include:
World's Fastest Gun Disarm Man and High-Risk Humanitarian, Victor Marx
Evangelist and Inspirational Speaker, Nick Vujicic
Professional Football Player, Dalton Risner
Pastor, commentator and host of the Marc Little Show, Marc Little
Former Special Forces Operator, Jeff Tiegs
Hosted by radio personality and founder of KMG Ministries, Frank Sontag
This year's gathering takes place on Armed Forces Day, May 21st at Fort Carson Colorado — Seating is limited so purchase your ticket early.
WHEN: May 21, 2022 from 12PM to 5PM (with two intermissions). Doors open at 10AM.
WHERE: Bill Reed Special Events Center at Fort Carson
WHY: The Men's Gathering is designed to transform, inspire, and disciple men throughout North America. We aim to help men maximize their lives and encourage them as the spiritual leader of their families and strengthen their communities.
TICKETS: Floor seats are available for $35 and bleacher seats are available $30. All seating is general admission and based on a first come, first seated basis.
DETAILS: Special updates and additional information will be released in the coming weeks.
IMPORTANT: ALL Fort Carson Visitors (non-DoD ID Card Holders) are required to pre-register at https://visit.gvt.us/?b=usa&i=carson&e=CJ7ZK95T to receive a visitors pass.
Once an access request is submitted, visitors will receive follow-on instructions via text message.
Visitor passes may be picked up at the Fort Carson Visitor Control Center (Gate 1) beginning a day prior on May 20, 2022, between 6:30 am and 4:30 pm.
In order to reduce congestion at the VCC on the morning of May 21, all Colorado Springs Area visitors are encouraged to retrieve their visitor pass the day prior.
All guests are encouraged to arrive early and enjoy breakfast or lunch at available dining and concessions prior to kick-off at 1PM. Food and refreshments purchased at concessions are authorized inside the Special Events Center.
Floor Seating is limited to 300.